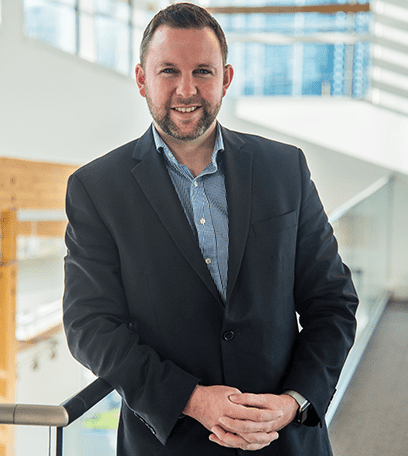 On behalf of the Phoenix Society board, I am announcing that our CEO Keir Macdonald will be leaving his position next month. 
Keir has been an exceptional leader over the past four years, during which time the organization has undergone exciting change and has only grown stronger. While we are saddened that he will be leaving the Phoenix family, we are encouraged that Keir will not be leaving the sector altogether. Keir has accepted a position at another organization where he'll continue to work on our common cause.  Keir's last day is September 16th.
We know you may have questions about what this means for Phoenix moving forward. First let me assure you, Phoenix's future is bright. The team has never been stronger. We are well positioned to continue and strengthen the transformative work unfolding at Phoenix, and a search for a new CEO is already underway.

The Phoenix Society Board of Directors has appointed a Transition Committee, which will manage the process of 1) hiring an Interim CEO to ensure the organization operates optimally during the transition and 2) recruiting a new Chief Executive Officer to lead us into the future. This process will take time, but over the transitionary period Phoenix will do what Phoenix does best: empowering lives and transforming communities. We will update you in coming months as this process unfolds. For now,  Keir wishes to pass on this note of thanks:
" Over the past four years I have watched hundreds of people pass through our doors on their journey of reclaiming hope, rediscovering dignity and embracing renewal. It has been an honour and privilege to lead such an incredible organization—we have confronted massive challenges and Phoenix has played an important role in transforming lives and communities. I have never felt more optimistic about the future of Phoenix, as  I know it will continue to be a strong force in supporting the community long after my departure. I want to say a personal 'thank you' to the Phoenix staff, Board of Directors, Funders and Community Partners who have made this such an amazing place to work.  It has also been a privilege to walk alongside so many individuals and see their transformative journeys through our programs, at the end of the day this is really what the work is all about. I look forward to the next few weeks as I cherish my remaining time at Phoenix, ensuring all the pieces are in place to fortify and maximize the impact of this outstanding team. The future is bright and I'm grateful for every step on the journey."
Please join the board and our Phoenix community in a heartfelt 'thank you' to Keir as he prepares to transition away. Stay tuned for more information in the coming months, as we select a new CEO to lead us into a new future.
Sincerely,
Pat Frewer
Board President