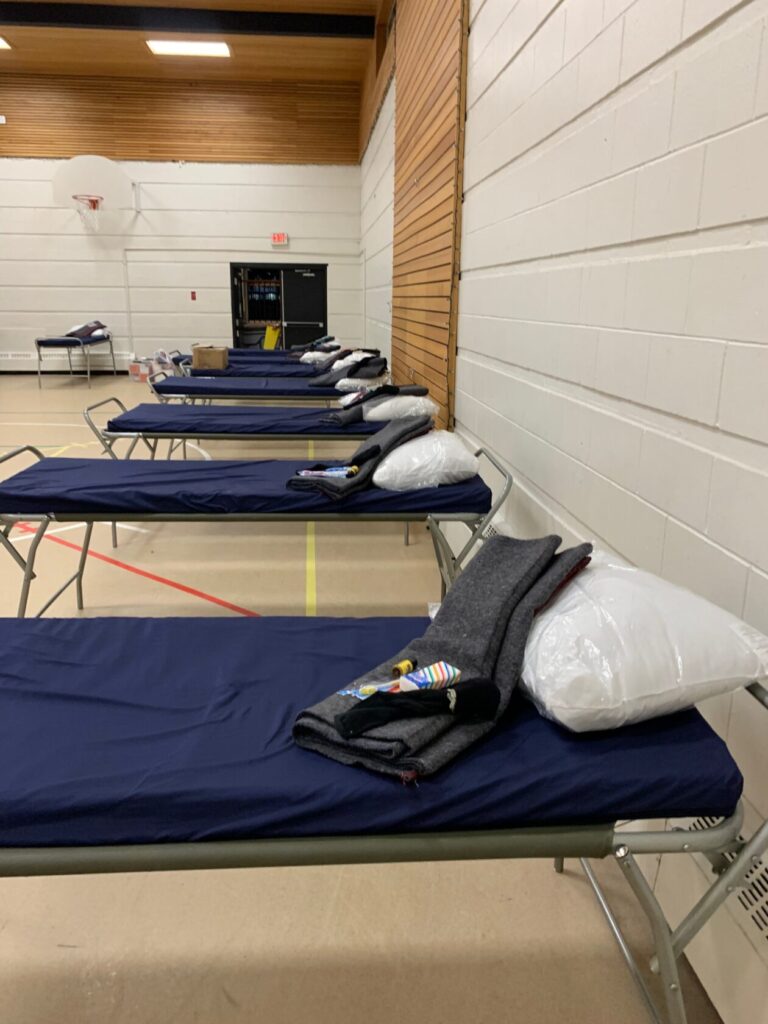 An extreme weather shelter opened its doors in North Delta on December 15.
New Hope Church has partnered with Phoenix Society, the City of Delta and BC Housing to support Extreme Weather Response (EWR) programming in the North Delta area this winter. The EWR program supports community-based services that provide temporary emergency shelter spaces during periods of extreme winter weather, which can threaten the health and safety of individuals experiencing homelessness. These operations are essential respite for individuals during periods of life-threatening weather.
Shelter will be offered nightly when an Extreme Weather Alert is activated through to the end of March 2022. Extreme Weather Alert activation criteria include temperatures below zero, high winds and/or heavy rainfall. Extreme Weather Alerts will be issued by the Homelessness Services Association of BC when inclement weather is forecasted.
"New Hope Church is committed to caring for our neighbours, offering hospitality, nourishment, friendship, and hope. We are pleased to work with a professional non-profit partner to help support this much needed emergency program," commented Wayne Driedger, Pastor.
Delta Mayor George V. Harvie said, "The city is extremely pleased to see a new Emergency Weather Shelter established for our North Delta community." Located on the border of Delta and Surrey, New Hope Church is a prime location to support temporary emergency shelter services due to its proximity to the Scott Road corridor and public transit.
"Creating a North Delta shelter has been a key priority for Delta Council to help address homelessness and support vulnerable residents with temporary, emergency housing," said Harvie. "We very much appreciate the dedicated work of City staff and community partners, including Phoenix Society, New Hope Church, the Homelessness Services Association of BC, and BC Housing, who helped bring this important initiative to fruition."
"Phoenix Society is very excited to see the City of Delta, New Hope Church and BC Housing making this vital service possible in the North Delta community for the first time, an area that currently has no emergency shelter facilities," said Keir Macdonald, CEO of Phoenix Society. "A series of recent storms have been bearing down on B.C., causing major safety concerns for unhoused individuals, and freezing temperatures are on the way."
Phoenix Society has extensive experience operating EWR shelters, including two previous seasons in Surrey and last year in Coquitlam. This winter, Phoenix Society is also operating the only EWR shelter in Port Moody. This shelter is a partnership between Phoenix Society, the City of Port Moody and BC Housing, and provides 15 mats for individuals. The shelter is currently seeing an average of eight to ten individuals per night.
The EWR shelter in North Delta opened Dec. 15 at New Hope Church (11838 88th Ave., Delta). The program has the capacity to serve 15 individuals per night, between 9:30 p.m. and 7 a.m. during Extreme Weather Alerts.
Guests who receive shelter will be provided a hot meal at night and breakfast to go in the morning, along with fresh socks, toiletries and other essential items.
Donations of jackets, gloves, winter boots and other items are needed now that the shelter is operational. Those wishing to contribute can email [email protected], or donate online here: https://donate-can.keela.co/extreme-weather-shelter.
Contact [email protected] for more information on volunteering your time.
For media inquiries contact:
Veronica Muniak, Communications and Digital Media Coordinator
[email protected]
-